Thermoformed protective glazing
for stained glass
STAINED GLASS IS FRAGILE
It is affected by projectiles and by corrosion alike.
On the outside, it changes through contact with rain and pollution.
On the inside, condensation runoff also causes gradual changes in the glass and paint, potentially leading to a total loss of designs.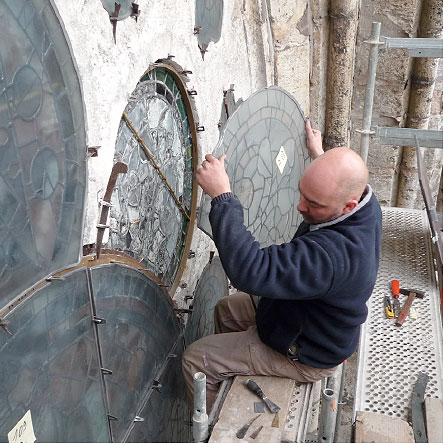 THERMOFORMED PROTECTIVE GLAZING FOR STAINED GLASS
(Brevet INPI N°9403918 et 1351107)
Protective glazing enables stained glass to be conserved in situ in the long term.
The external side is protected from: chemical corrosion (rainwater, pollution, etc.), dirt and mechanical deterioration (wind pressure, projectiles, dust abrasion).
The internal side is also protected: a double layer of glass means that the stained glass is no longer subject to condensation.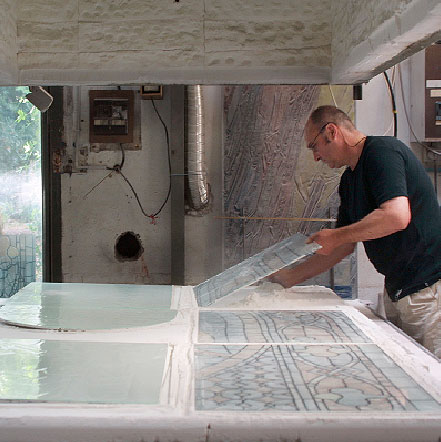 THE PROCEDURE
The glass is produced by thermoforming based on the imprint of the stained glass to be protected. It is then treated on its surface in order to reproduce the external appearance of the stained glass.
INPI (Institut National de la Propriété Industrielle – National Institute for Industrial Property) patents: basic patent N°9403918, patent of improvement N°1351107.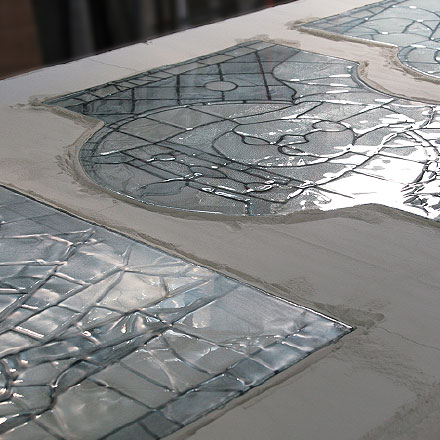 TECHNICAL CHARACTERISTICS
Resistant industrial glass (soda-lime-silica float glass)
Plain glass: thickness 6 mm, 15 kg/m²
VLaminated glass (laminated using the Unilam® process):
thickness 9.8 mm (6-3-2), 20.8 kg/m²,
or thickness 6.8 mm (4-2-2), 15.8 kg/m².
Negligible light absorption.
Light absorption of 13th-century full-colour stained glass:
between 91% and 97% of radiation.
Light absorption of the "stained glass + thermoformed protective glazing" system: between 94% and 98% of radiation.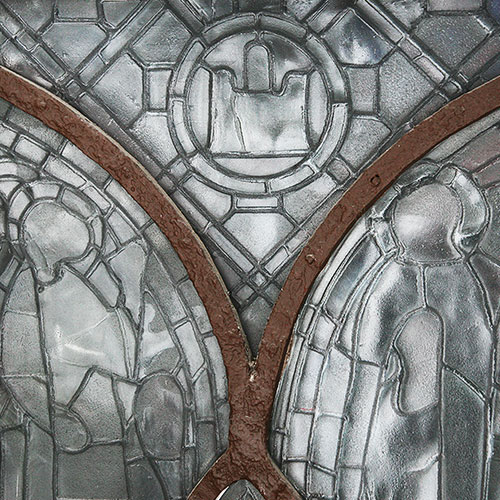 SURFACE TREATMENT:
Coloured patinas on reflection (as seen from the outside of the building).
Colourless patinas on transmission (as seen from the inside of the building).
No large parasitic reflections.
The surface remains fairly smooth to prevent dirt formation.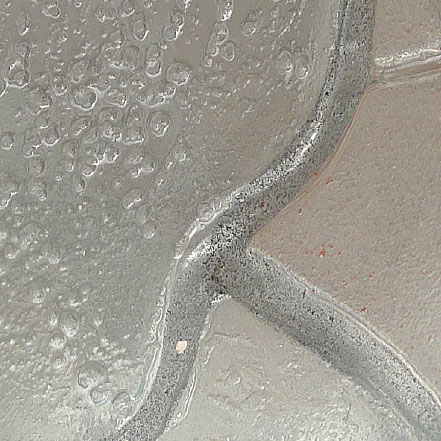 A TAILOR-MADE PRODUCT
The product manufacturing process can be adapted to all styles of stained glass through all periods from the 12th to the 20th centuries.
The patinas (imitation glass or lead) can be varied to obtain the desired effect.
Plain glass or safety glass for the general public or for anti-theft use, depending on need.
Fitting to existing locking mechanisms or to a new framework, depending on architectural constraints.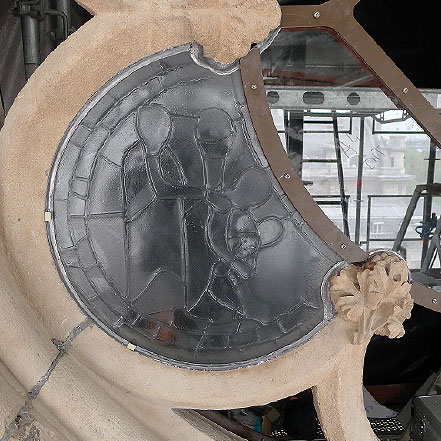 SOME REFERENCES
A patented technique and product that are guarantees of consistent quality
Know-how based on a number of projects:
Holy Chapels of Paris, of Chambery.
Cathedrals:
Chartres, Tours, Bourges, Angers, Poitiers, Le Mans, Amiens, Coutances, Sees, Reims…
Churches:
La Martyre (29), Le Faouët (56), Mézières en Brenne (36), St-Germain de Rennes (35), St-Vénérand de Laval (53), St-Nicolas de Bourgueil (37), Sully sur Loire (45), La Guerche de Bretagne (35), St-Pierre de Chartres (28), St-Germain l'Auxerrois de Paris (75).